Hi Def Performance is aiming to fundamentally change the remote training experience. Six months ago, Liam Kennedy Shanahan (previously a pitcher for the Gulf Coast Philies & Florence Freedom)  set his sights on bridging the physical gap between expert trainers, coaches,  and teachers with the average consumer. Hi Def Performance's interactive training platform integrates "synchronous and a-synchronous video, motion analysis, user analytics, messaging tools, and social sharing capabilities."
Click on the icon  below to watch Hi Def's video and then read the full scoop from Liam: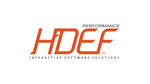 Founded:
Feb. 2014
Number of Employees:
1 man show currently
Funded or Bootstrapped:
Bootstrapping
Inspiration:
After using multiple separate teaching/communication/training tools as a former Coach and Trainer, I knew there had to be a better way and who better to create it than me.
Business Model:
B2B-2C
Monthly Subscription and per member per month commission
Ad revenue when critical mass is built
Competition: 
No direct competition in these verticals.
Indirect competition:
Corporate training software
–Mindflash
–DigitalChalk
–Grovo
–Goto Meeting
Motion Analysis software
–Dartfish
–Right View Pro
Fitness Tracking Apps
–Argus
–Coach Alba
–Cycle Meter
–Endomondo Sports tracker
–FitBit
Why Atlanta:
I am a northern transplant, that has fully adopted the southern lifestyle. I am so grateful for the opportunities that have presented themselves in my 14 or so years calling Atl home. If I can help make Atl's tech, health, and wellness presence felt in any way throughout the country/world I will be a happy man.
Mulligans:
To do completely honest, I learn so much from my mistakes and know the company would not survive the long road without the knowledge and confidence that mistakes can be overcome with the right formula of hard work, people, and process.
Mentor:
This company is begging for a been there done that kind of person. A mentor with the vision and connections to help take a tiny company, their idea's, and product to the national and global scale. Someone as bold in action as they are in thought…
What are you  looking for:
Passionate people willing to take risks. I know that truly successful companies rest on the shoulders of those involved, not product, service, or idea alone. People are what make real differences.
[Photo Credit: Hi Def Performance]